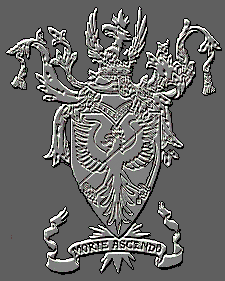 The News Page of
The Lasombra "Anti-Tribu"
---
Welcome to the News Page of The Lasombra "Anti-tribu." It is the pupose of this page to keep my fellow Camarilla Lasombra up to date on items of interest(both real and game related) to the Clan. I hope this site becomes popular on this site. I shall include a comment box here, as on the front page, so news that I might have missed, or not have known about, will make this site.
Cordially,
Sir Alexander Horne

---
News
26 July 1996:
Clan Lasombra has an active treaty with the Clan Brujah Elders in *location confidential to the general populace* -while our clan is still reviled and persecuted in this area by the Clans Toreador and Ventrue, those who wish to disguise their heritage will be accepted as "Brujah". BlackWing is the Lasombra Elder in this Domain, and until a decision is reached otherwise, Lasombra Anti-tribu in his domain are to seek him out and accept the cover provided by the Brujah.

Although I do not condone hiding ones Clan, from some confidential information that I omitted from this report, it would be a good idea in this case.
---
10 July 1996:
At a Justicar Conclave, a new Justicar postion was created. This position is for the Lasombra Anti-Tribu, as we are so acknowledged by the Camarilla. The first Justicar to be put in this position was an Archon for the Ventrue Justicar. Sir Alexander Horne graciously accepted the position. When asked for comment, Sir Horne responded with,"This is indeed a momentous step forward for the True Lasombra. With the appointment of a Lasombra Justicar, the True Lasombra are now a full fledged member of the Camarilla. This will hope fully be a turning point in the Jyhad, because now we will not have to hide behind false names, claiming to be members of clans other than Lasombra. My thanks to Elaine de Calinot for convincing the Tremere Justicar to call this Conclave." When asked what he was going to do now, Justicar Horne simply said,"I'm going to handle some unfinished business in my Domain, then move on to Melbourne, FL."


6 July 1996:
Today, a formal treaty was signed between Clan Lasombra and Clan Tremere. The treaty has the following provisions:
1) No member on Clan Lasombra may engage in violence against a member of Clan Tremere, or visa-versa.
2) Any member of Clan Lasombra must aid any Tremere who asks for aid, provided this aid does not violate any Traditions. This also applies to Clan Tremere.
3) Clan Lasombra and Clan Tremere shall, every December send two envoys, each, to Chicago to settle diputes between the two Clans.
4) Members of Clan Lasombra must instruct any Tremere, who so wishes, the art of Obtenabration. Tremere must perform any rituals or Thaumaturgy that a member of Clan Lasombra requests.
5)This Treaty does not extend to members of the Sabbat.

This treaty was Signed by Elaine de Calinot and the Methuselah Montano. Councilor de Calinot returned to her Chantry after the signing.



---
Return to theMain Page or...
Send Your Report
---
---